Tomorrow, November 7th, I will be back on Fox 5 to discuss seven ways to use your leftover pumpkins! The shelf life of your pumpkin is an important factor to consider. Jack-o-lanterns only last about five to ten days after carving, but a healthy pumpkin can last eight to twelve weeks! So your stout, little friends may make it to Thanksgiving. For best storing they should be in a cool, dry place (out of direct sunlight, preferably around 50-55 degree temperatures) – I'm currently keeping mine in the basement. Also, make sure they aren't exposed to below freezing temps, or they won't last. I hope you like the practical, simple, and pretty ideas I found for you! Here are seven ways to use your leftover pumpkins:
Decorate Them Using Chalkboard Paint or Yarn
Yarn:
This yarn look stepped up my Thanksgiving mantel decor! Because it's so cute, I think I'm going to get a fake pumpkin to do this to so I can use it year after year. All you need is a glue gun and yarn. Glue as you go round and round, starting from the stem.
Chalkboard Paint:
This is a fun way to count down to Thanksgiving, let the kids draw on it with chalk, or use as your welcoming board for parties. All I did was put tape around the stem and spray painted it twice with chalkboard spray paint. There are also other colors to choose from. I thought "clear" was a cool idea if you want to use a dark chalkboard marker.
Some other items you can use to decorate your pumpkin is using: lace, a sweater, tacks, a doily (as a stencil), decoupage, and some ribbon. This sweater idea may puzzle you, but look how adorable it can look if done well. This is via Evenly and Rose blog:
Make a Bird Feeder
I never made a bird feeder before this, and Martha Stewart's was pretty easy. The only thing that I struggled with was attaching the twine. Her directions say to tack the twine at the bottom center of the pumpkin. That didn't work for me. Not sure if she was using some "magical" Martha Stewart tacks or what, but I recommend a hot glue gun! I glued the bottom end and added the tacks for double support. I also glued the twine to the sides of the pumpkin so they wouldn't slip off. For the directions, click here.
Make a Necklace With Your Kids
I found this idea via My Little Fabric blog. All you need is colored or transparent thread, a needle, paint, and dry pumpkin seeds. I recommend painting or dying the seeds first prior to threading them. I dipped my first batch (the green ones above) in some green acrylic paint with water once threaded, and it didn't work so well. The seeds and thread became stiff, so the necklace's mobility is limited. My "natural" necklace, on the other hand, turned out perfectly.
Make Potpourri
Once again, Martha Stewart delivers with a brilliant idea. Make potpourri by simply rubbing some yummy spices on the top of the pumpkin you cut up. My house immediately smelled like cinnamon after lighting the tealight candle. I think I'm going to buy pumpkin-pie spice just for this project. The added perk for a "crunchy" mom like me? It's all natural! Here's the how-to.
Make a Serving Bowl
Remember I made this Spooky Halloween Soup in a Pumpkin Bowl a couple of weeks ago? You can spruce up your dinner party by using your pumpkin to serve dessert, soup, mashed potatoes, or whatever else can fit in there! All you have to do is: cut the stem off, put the pumpkin hole down on a shallow pan, add 1/2″ water, and roast for 30 minutes at 350 degrees. Be sure you choose a pumpkin that has no holes, bruises, etc.
Chop + Freeze Raw Chunks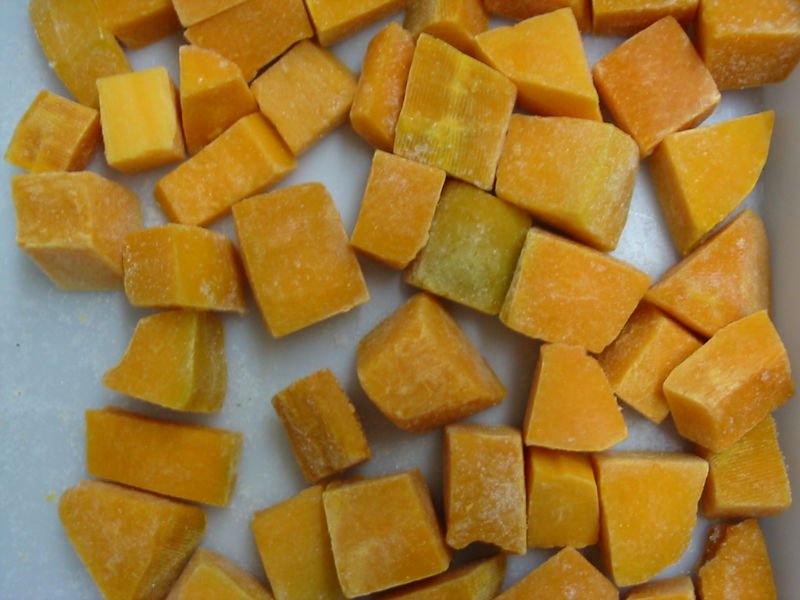 Why not save this nutritious fruit for your future baking needs? Feel like eating pumpkin pie for Christmas? Do it. You can simply peel your sugar or pie pumpkin (NOT jack-o-lantern-bred pumpkin), chop it in .5-1″ thick chunks, and loosely put it in a freezer bag. Don't over-pack the bag or you'll end up with a frozen pumpkin block! I read that it can be kept in the freezer for six to eight months.
Pumpkin Fact: Jack-o-lantern-engineered pumpkins' flesh are watery and bland, which isn't ideal for cooking. For this reason you want to use the sugar or pie pumpkin that has a thicker, more flavorful flesh.
Make a Puree
There are so many things you can make with pumpkin puree! You can cook up: cakes, soups, pies, hummus, etc. You can even use it for a facial mask! Here's a recipe from Primally Inspired. As for the puree, I used Food Network Alton Brown's recipe. You can store it in the fridge for up to a week or freeze it for up to three months. You can read the recipe here.
Please let me know how your pumpkin projects turn out!